Hello and welcome to Embouchures.com. Have you surfed by only out of curiosity, or...
Are you a brass player who has encountered a painful, debilitating embouchure problem? Perhaps you have been experiencing daily lip swelling and/or lip pain and lost your endurance and high range too? Maybe your lips feel weak, rubbery, tingly, or numb when you play? Do you have strange sensations in your lips and face which were never there before that now make playing a struggle? Has this problem been plaguing you for weeks, months, years?

If you have just experienced a sudden, acute onset of an embouchure problem, we have information for you and a few tips on how to deal with your embouchure emergency.

If your debilitating, painful embouchure dilemma has been going on for more than two weeks, you will find information about the cause of and solution of overuse injuries and chronic embouchure problems.

Perhaps you are a student or amateur player just looking around the Internet for advice on how to increase your range and endurance safely or seeking a few tips on audition taking?
Whatever your reason for dropping by, welcome to our informational web site.
Embouchures.com is the only place you can purchase BROKEN EMBOUCHUES, EMBOUCHURE REHABILITATION, the BUZZ PIPE BOOK, and the all new HEALTHY EMBOUCHURE GUIDE for COMEBACK and AMATEUR BRASS PLAYERS by Lucinda Lewis. You will find them in our Bookstore along with a special offer for those who have purchased previous editions.
BROKEN EMBOUCHURES is designed as a comprehensive guide to performance injuries and medical and dental problems. It offers a basic approach to performance rehabilitation, information on when not to change an embouchure, a little food for thought for those who are concerned about mouthpiece pressure, a few updates to the medical and dental sections, caveats and information about lip surgery, and information on common lip complaints such as blue and white spots, divots, and bumps.
The newly revised 2017 edition of BROKEN EMBOUCHURES, A Handbook for Understanding Embouchure Dysfunction is now available in the Bookstore. The new edition has been completely redesigned with all new information.
The 2016 edition of EMBOUCHURE REHABILITATION introduces you to your physical mechanics in an easy and understandable way and dispels the old dogmas, myths, and mysteries of air control and how it works in playing. In this edition, a player is shown how to diagnose the mechanical problems he has developed as a result of overuse or injury. There is an expanded rehabilitation section which provides a method of using mechanical imitation to restore playing.
For those who have purchased previous editions of EMBOUCHURE REHABILITATION, there is a special discounted price available to you for the new edition. You can read excerpts from the new edition online, or you are welcome to send me an email if you would like to receive the complete first five chapters of EMBOUCHURE REHABILTATION 2016. If you don't hear back from me in 24 hours, please contact me again from a different email address.
If you are just looking for a good way to get into playing shape quickly and safely or to stay in shape while on vacation, the BUZZ PIPE BOOK is for you.
THE HEALTHY EMBOUCHURE GUIDE for COMEBACK and AMATEUR BRASS PLAYERS contains tips for how to return to playing safely, practice, improve range, and prepare to perform. The GUIDE also provides blocked buzzing and buzzing exercises to help you get in shape and stay in shape.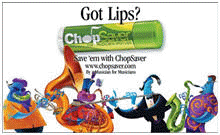 ChopSaver is now available at all CVS Drugstores nationwide.