Hello and welcome to Embouchures.com. Have you surfed by only out of curiosity, or...
Are you a brass player who has encountered a painful, debilitating embouchure problem? Perhaps you have been experiencing daily lip swelling and/or lip pain and lost your endurance and high range too? Maybe your lips feel weak, rubbery, tingly, or numb when you play? Do you have strange sensations in your lips and face which were never there before that now make playing a struggle? Has this problem been plaguing you for weeks, months, years?

If you have just experienced a sudden, acute onset of an embouchure problem, we have information for you and a few tips on how to deal with your embouchure emergency.

If your debilitating, painful embouchure dilemma has been going on for more than two weeks, you will find information about the cause of and solution of overuse injuries and chronic embouchure problems.

Perhaps you are a student or amateur player just looking around the Internet for advice on how to increase your range and endurance safely or seeking a few tips on audition taking?
Whatever your reason for dropping by, welcome to our informational web site.
Embouchures.com is the only place you can purchase Broken Embouchures, Embouchure Rehabilitation, or the Buzz Pipe Book by Lucinda Lewis. You will find them in our Bookstore along with a special offer for those who have purchased previous editions of either book. Broken Embouchures is designed as a comprehensive guide to performance injuries and medical and dental problems. It offers a basic approach to performance rehabilitation, information on when not to change an embouchure, a little food for thought for those who are concerned about mouthpiece pressure, a few updates to the medical and dental sections, caveats and information about lip surgery, and information on common lip complaints such as blue and white spots, divots, and bumps. A more detailed guide for performance rehabilitation has been compiled into Embouchure Rehabilitation. If you own an older version of Embouchure Rehabilitation, the 2014 version offers a diagnostic routine for using blocked buzzing. If you are just looking for a good way to get into playing shape quickly and safely or to stay in shape while on vacation, the Buzz Pipe Book is for you.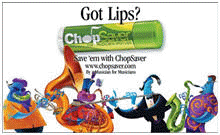 ChopSaver is now available at all CVS Drugstores nationwide.