Bookstore
About Shipping and Ordering:
Metarhythm provides our secure shopping cart service. When you make a purchase on Embouchures.com by credit card, "Metarhythm" will appear on your next credit card statement. Our domestic and international shipping rates are based upon current USPS Priority shipping rates. If you would like to order using PayPal, please send an email to
cinlewis@embouchures.com
.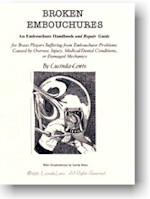 Broken Embouchures, Revised, 2020
Broken Embouchures contains comprehensive information on the causes and effects on brass playing of embouchure overuse syndrome, including lip injuries, lip swelling, and other things that make playing a Challenge. Click on the book cover to read excerpts from Broken Embouchures. $45.00

PREVIOUS PURCHASERS of Broken Embouchures:
You are eligible to purchase one copy of the new edition at a specially reduced price.
$25.00